Some images from the laboratory
Exciting scientific moments and somewhat unscientific escapades of DNL members
Here, we use synthetic 'brain-imaging' techniques on an artificial neural network to see how its activation state changes across learning. (See Thomas, M. S. C., Purser, H. R. M., Tomlinson, S., & Mareschal, D. (2012). Are imaging and lesioning convergent methods for assessing functional specialisation? Investigations using an artificial neural network. Brain and Cognition, 78, 38-49.)
As the network develops, it shows emerging specialisation of different skills to different streams within the structure.
A lab member's brain. Here, the lab member is aware he is performing a language task and is attempting only to use the left side of his brain, in line with the existing scientific literature. Homer Simpson looks on, using neither side of his brain.
A synergy between Pointillism and self-organising neural networks:
An early phase of an abandoned project to replace each lab member with an identical android and go to the beach:
The Christmas party 2004:
Fred fails to win another fencing competition:
Dagmara represents the DNL at the award of the Queen's Anniversary Prize for Higher Education (2006), of which the DNL was a co-recipient: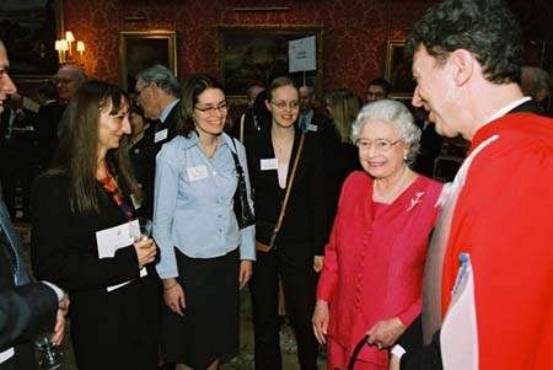 Fiona dances:
A recent lab meeting to discuss Any Other Business:
Fred considers primate cognition. Primate considers bamboo snack.
Roberto Donadoni, then Italian football manager, visits the MRI facility. He kindly participated in a functional scan identifying brain areas responsible for detecting biological motion. Like kicking a football. Imaging guru Marty Sereno oversees.
Stills from 2008 children's BBC programme called "Brainjitsu", on which Fred was scientific consultant. The programme sought to use games to train particular parts of the brain. "Feel the burn!" as the voiceover man said.
Stills from 2008 Channel 4 documentary "Child genius". The lab collaborated with programme makers by scanning the brain of a child genius. Cathy Price reveals what a brain scan tells us about the genius brain
Christmas festivities 2008
Fred fails to win more fencing competitions, this time failing for his country down under. Comes back all bronzed.
A year goes by: Christmas festivities 2010
To celebrate receiving his doctorate, and to show his commitment to psychology, Roberto has the Greek letter for psychology ('psi') tattooed on his forearm. Go, Roberto!
The DNL attend the Afasic charity dinner in 2011, and mingle with politicians (John Bercow, Speaker of the House of Commons), academics (Dame Uta Frith, Patrick Bolton) and celebrities (Derek Jacobi, Sally Bercow) ... and of course, other academics.
Fred runs a twin experiment to investigate whether Christmas is inherited. These DZ twins both show similar 'Santa' effects, implying an environmental cause for Christmas.
Christmas festivities 2012:
Roberto unveils his latest findings on the bilingual mind in Singapore, turning the world on its side:
Fred talks about autism at Birkbeck Science Week 2013:
"Dear Professor Thomas, I'm writing with a perhaps slightly unusual request. I'm currently managing the Derek Jarman Lab which is the media production hub at Birkbeck. The Lab combines teaching academics and postgraduate students practical aspects of filmmaking with research activities in media theory. We are especially interested in the idea of the film essay or, broadly speaking, research-led filmmaking and visual methodologies. We are staging a short filmmaking event under the title: 'Thoughtful Cinema: encounters between philosophy and the moving image.' I understand one of your research interests is connectionism, understood as a philosophical stance, and the embodied mind. I've come across connectionism researching various theories of cognition which I refer in my thesis on film editing. And the subject of 'embodied mind' is actually very relevant to our event, since it bridges philosophy and psychology of cognition. We'd like to make a short film about 'embodied mind'. Could you take part? - Bartek Dziadosz, March 2015"
Embodied Mind [Interval Version] from The Derek Jarman Lab on Vimeo.
At last, Fred gets his hands on silverware... in a team event. Well done South East section. Fred's personal thanks to coaches Michael Marx, Thomas Theuerkauff, Lisa Bell and Cody Mattern, at the Bordeaux Fine Wine and Fencing 2016 Training Camp, for prodding him into some form with a foil.
Fred gives evidence to a committee. The ladies behind check their email in excitement:
DNL Christmas festivities in 2016:
Here's what the phonology of 1000 English monosyllabic words looks like, when you give it to a self-organising artificial neural network to learn:
And here's what the meanings look like:
The DNL give expert input on the neuroscience of plasticity and learning, for a China Plate Theatre production:
Fred gives a talk on "Educational Neuroscience and Special Educational Needs" at the All Special Kids conference, Geneva, 2017
Lab members play "DNL Bingo", predicting which phrases will come up in one of Fred's talks:
DNL Christmas festivities in 2017:
Updated 29/01/18